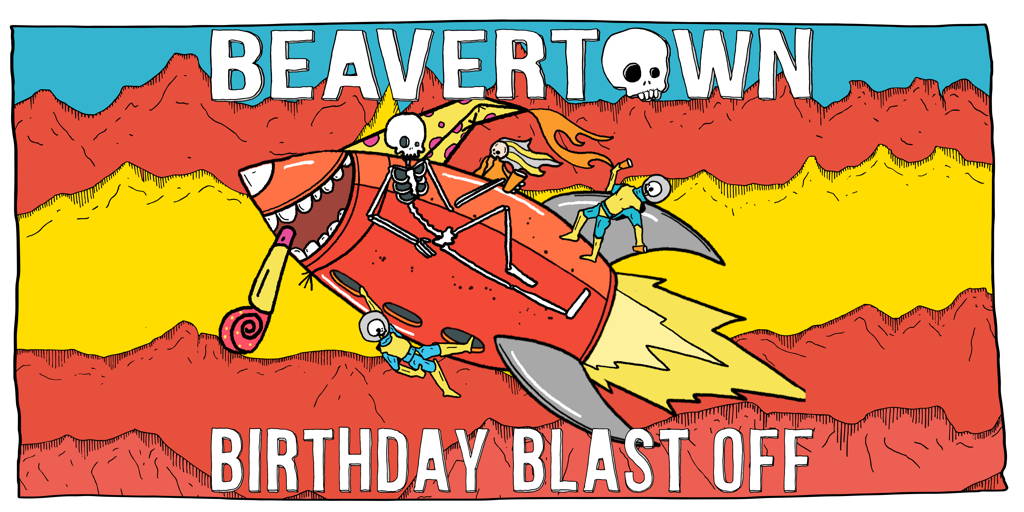 Call us nuts, but we reckon you might be up for a long-overdue party?
So, get ready to supercharge your summer with Beavertown's Birthday Blast Off!
Hosted in partnership with Worldwide FM we'll be celebrating turning 9 in the middle of a summer where life and good times will hopefully be bursting, bouncing and bounding back.
You can expect a live music filled, beer fuelled, pretty epic party for you and your mates. As always with us this is an ALL-IN ticket. So, once you're in - all your beer is included, and you'll get a free goodie bag to take home with you.
We'll have 24 lines pouring across the day, including 9 new Birthday brews, Beavertown classics, and a handful of wonderful guest beers. We shall also have a great mix of food available on-site.
Session 1: 11am - 4pm
Session 2: 6pm - 11pm
£50*
All beer included & a free goodie bag.
Boring bit: *Ticket holders must be 18+ to attend. A booking fee applies per purchase. Ticket price does not include food. Please drink responsibly. Full T&Cs available here.
GOVERNMENT COVID-19 UPDATE
Due to the UK Government extending restrictions we have had to postpone our Birthday event until the 7th August.
Whilst this is frustrating, we made this decision with everyone's health and safety in mind. We have notified ticket holders via email that we'll be able to serve up some great beer, great food and great music at a slightly later date. Those who cannot make this new date can of course get a full refund.
By Train - Ponders End Station – we are a 7 minute walk from the Station to the Brewery.



Event Address: Unit 7, Enfield Distribution Park, East Duck Lees Lane, Enfield, EN3 7SP



Unfortunately, we have no parking or bike storage available.



We shall have a great mix of food available onsite, which we can't wait to share with you all soon! All vendors will be catering for all dietaries but if you have any concerns, please do not hesitate to get in touch with one of our team.

Please note, food is not included in your ticket.

We will be serving no other alcohol apart from Beer. Keep an eye on our socials for beer announcements and collaborators.

Tap water will be available from multiple points around the venue.

No external food or drink will be allowed and will be confiscated upon arrival. Sealed bottles of water will be permitted
Is all beer really included?
It is indeed, but please be aware that our staff reserve the right to refuse service to any customer they deem necessary.
Our site is welcome to all, but if you feel you have any concerns, please don't hesitate to get in touch with us, and we shall be sure to answer any queries.
What actions are you taking with regards to COVID-19?
Our event shall be operating in line with the government guidance and roadmap at the time of the event, 17th July.
We're afraid it is too early for us to provide information regarding any mitigating conditions of entry. We need to wait to see the results of the Government's Event Research Programme before making such decisions and once we have done so, will be making all of our ticket buyers aware right away.
The whole event has had an extensive Covid-19 based risk assessment, and we have dedicated teams on board to stay up to date with any restriction amendments.
We have an excellent, friendly security team on site to control capacity in all areas. Along with clear signage to assist the flow of the space.
What happens if the party gets cancelled?
Rest assured we will be doing everything we can to make this party happen, but, in the event that we have to cancel, all ticket holders will be notified immediately and be offered a full refund. Should the government guidance change in anyway, the organisers of the event will be in touch with all ticket holders, to inform them of any event changes or cancellations.
My email / ticket didn't come through
We recommend taking a screenshot of the booking page upon payment, so you have your order reference to hand. Please contact our team on
webshop@beavertownbrewery.co.uk
and we will try our best to get this sorted for you.
Can I resell my ticket if I can't go?
No, please apply for a refund via Eventbrite and we can allocate your ticket to a new customer on the waitlist.
What if I forget or lose my ticket?
All tickets will be emailed upon ordering, please keep this safe. Tickets can be scanned via smartphones or printouts.

Please contact us on webshop@beavertownbrewery.co.uk
We have a strict no Under 18's policy, therefore please bring identification with you as our security will be operating a challenge 25 policy.



No pets/animals allowed - guide dogs welcome



Refunds will be available up until 7 days before the event. Please be aware that the refund will only include the face value of the ticket only, not including booking fees or any charity donations.
If an event is cancelled or postponed, refunds will be for the entire purchase—that includes the ticket price and the Eventbrite fees.