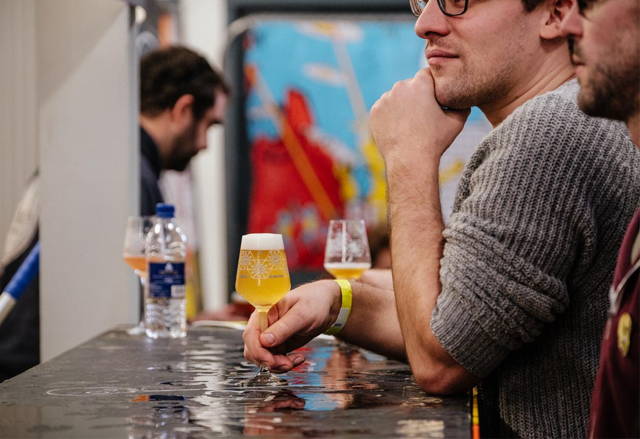 We're reopening the Taproom! In order to keep everyone healthy, happy and safe, things will be a bit different. It's another new-normal to get used to, but one that will ensure we can all enjoy our long-awaited pints within the new government guidelines.
NEW TAPROOM OPENING HOURS
Saturday – 12.00 – 9.00pm
Sunday – 12.00 – 6pm
The taproom will now be operating more like a restaurant (remember those?!) as opposed to the old taproom bar style service. This means:
All customers will be in a socially distanced queue outside brewery Unit 17 on arrival and wait to be seated by a member of the team. The floor will be clearly marked and will be a separate queue from click and collect and takeaway orders.
Hand sanitising points will be available on entry & exit.
Once all tables are at capacity, Beavertown will be operating a one table in, one table out system. No sharing tables, no switching tables, please only sit with the group you came with.
The tables are currently set at 2m apart, this will remain in place until the Government advise otherwise.
Customers will order through table service, this means no cheeky trips into the Taproom bar, sorry folks!
To minimise staff / customer interaction, customers will be asked to order via a tick-as-you-go paper menu. Simply fill out your order sheet and pop it in the stand at the end of your table. This signals to our team that you're ready to order.
Customers will have the option to choose between plastic or glass pints, dependent on what you are comfortable with.
All members of staff will be wearing PPE, gloves & masks.
Individual portaloos will be available, no indoor brewery toilets will be open to customers to ensure the safety of our team.
We will only be accepting card payment.
NOT COMING TO THE TAPROOM?
Customers will be able to buy takeaway cans during new Taproom opening hours (see above). The queue for takeaway cans will be outside Unit 2 on the left. Takeaway cans will be sold only by 12 or 24 packs and are to be paid for by card payment only. If you're savvy, order your cans beforehand via our click and collect option on the Webshop.
When picking up cans via click and collect or takeaway, do not consume them outside the brewery, or in public spaces. Take them home to enjoy, cheers!