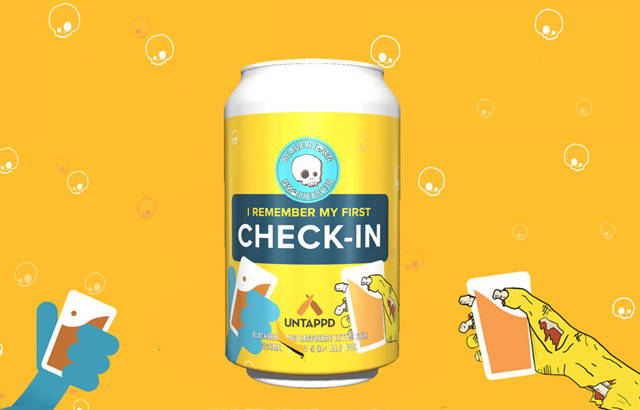 Logan Plant, Founder and CEO of Beavertown, shares his journey with iconic US brewery Dogfish Head and why we're celebrating 10 years of Untappd through a new collaboration, called I Remember My First Check-In.
My relationship with Dogfish started probably in 2011, when I was first devising the business plan for Beavertown and for Duke's Brew and Que, the restaurant where we first opened. I was reading all sorts of brewing books and industry material, messing around with home brewing. I then came across a book called Brewing Up A Business, by Sam Calagione. Sam was, and still is, the Founder and CEO of Dogfish Head brewery in Rehoboth, Delaware. I started reading his story and I thought, 'this is exactly the way that I'm feeling!' There was an affinity in way that I see beer and how that he spoke about it. I remember then opening Duke's and starting to brew Beavertown, in that first year I went back to the book to read it again. I thought, 'jheeze, we've been on exactly the same journey here'.

The way Sam brewed and thought about beer was very food driven, he was really into using different infusions; whether that was spices, fruits, or even pumpkins - whatever it might be. He would do it. He just had a real – as their tagline goes – 'off centered' vision of what beer could be, and I love that. He was a really big beer inspiration and still is to this day, but very much so in those early days of Beavertown.
I had the chance to go to America in 2012 when Beavertown was six or seven months old. I was in Washington with my family, my dad, brother and sister, and I said, 'you know, 2-3 hours down the coast is my biggest inspiration for a brewery. I think we should all head down, it will be great'. So, I managed to persuade every body, and we got in a car and drove down to Rehoboth. We went past the Chesapeake Bay, which was amazing; down the flat fields, hit the sea, turned right and there we were. I just walked straight up and knocked on the door at Dogfish Head with my family, and in we went.
We had a tasting and a bit of a tour, and from that day on I made some great friends. Sam wasn't thereat the time unfortunately, but I made a some really good mates within the team. We stayed in touch and they later told Sam about my journey as a UK brewer just starting out. Sam reached out to me and said, 'come over! It's the craft brewers conference in 2013, let's do a collab in our brew pub in Rehoboth'. I couldn't believe it.
So I turned up in 2013, six months after meeting his team, and there was Sam, my biggest inspiration, in his brew pub. We brewed a beer called Sun Never Sets with another amazing brewery from Canada called Dieu Du Ciel! It was brilliant, we had such an amazing day and from that day on we've been really good friends. Sam was coming over to the UK the following year and I said, 'why don't we brew another collaboration when you're in London?' So he came over, and again taking our love of infusion and spirits – he also owns a distillery in the states called Dogfish distillery – we brewed a gin inspired beer, calling it Londonerweisse, working with East London Liquor Co. as a collaborator on the project.
We both love sour beers at Beavertown and at Dogfish; we had the Phantom series, they had a beer at the time called Festina Peche, which are both sours. We used that as a base beer, and with East London Liquor Co. we came up with some infusions, using one of their gins in particular as inspiration. We used pink grapefruit, some cubeb pepper, juniper, and Sam flew in some dried orange flesh from a local orangery near where he lives. We also used a bit of Darjeeling tea in the dry hop, then aged it in burgundy barrels, it was amazing!
At that time in 2014-15 there weren't a lot of sours in the market, particularly gin inspired ones, so it really was an off centered, left field vision, but it really came off.
Anyway, that really cemented our friendship even more and that night after the brew we had a beer dinner at Duke's Brew and Que. Sam flew over four or five Dogfish Head beers which were super fresh and the UK had never seen before. East London Liquor Co. had a bunch of their spirits on the go and we had a bunch of Beavertown beers on the go, then we did a whole food pairing with the kitchen at Duke's. It was a five or six course meal paired with all these different beers. It was a momentous moment, not only for me and the team at Beavertown, but for Duke's and maybe for London and the craft beer movement at the time. To have Dogfish Head over, sending fresh beers into the market in 2015 was rare. I was super humbled and am very proud of that time.
Then ever since Sam and I have remained close, we've seen each other at lots of conferences in America, he's been back to London and we've hung out. So, my biggest inspiration and hero I can now call my friend. When he dropped me an email along with the guys at Untappd to celebrate 10 years of Untappd I was excited.It also celebrates the local craftsmen and farmers, people that we work with as brewers to make the beers that we do, and I thought 'wow, what a great nextstep in our adventure'.
So here we are: we've come together and brewed a sour beer infused with local raspberries and blackberries, because it's been that time of year in the UK. We've based it on a similar beer we brewed back in the day, the original Londonerweisse. It's 5% ABV, tart, and laced with a whole load of beautiful local fruits. Enjoy.
I Remember My First Check-In is available to order from the Beavertown Webshop now.